NEWS
News Release - Latest real estate market conditions & statistics:
Important news updates:
- Government Reduces Tax Burden on First Time Home Buyers
- BC introduces 15% real estate tax targeting foreign buyers
- Single-family home values will survive baby boomer sell-off, economists say - "See what Derek Love Has To Say!"
- Kinder Morgan Canada Trans Mountain Pipeline System in Burnaby-Douglas
- Kinder Morgan's Propopsed Pipeline Expansion Through Lower Mainland
- Bill C-38 What Does It Mean To You For Property Owners Along Pipeline
- Depreciation Report
- Evergreen Line Update
- HST Information
- Breaking News: Department of Finance tightens CMHC Rules
- Basic Information on HST for Residential Real Estate
- Bank of Canada increase overnight rate target to 3/4 per cent.
- Special Update - Mortgage News - Bank of Canada Raises Interest Rates by .25%
- Vancouver 2010 Winter Olympics Feedback from World Media
- Minister of Finance Announces New Mortgage Rules
- Bank Maintains Overnight Rate March 2, 2010
- Olympic Road Closure Map in Vancouver
- Changes to Street Parking Downtown
- HST Update
- Benefits of HST to Home Buyers
- Federal RRSP
Friday, September 25, 2015 - The Love Team's listing featured in The Globe and Mail: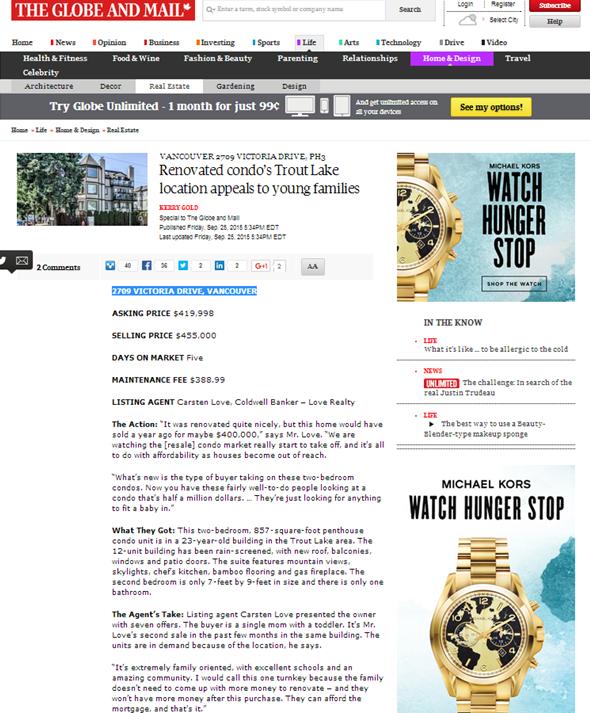 January 23, 2013 - An interview with Global TV - Gary Love sells the same home for the 6th time and discussing about the current real estate market.
January 22, 2013 - CTV News - Please click on the link to view Gary Love interviewed by CTV News about the market and selling the same home for the 6th time!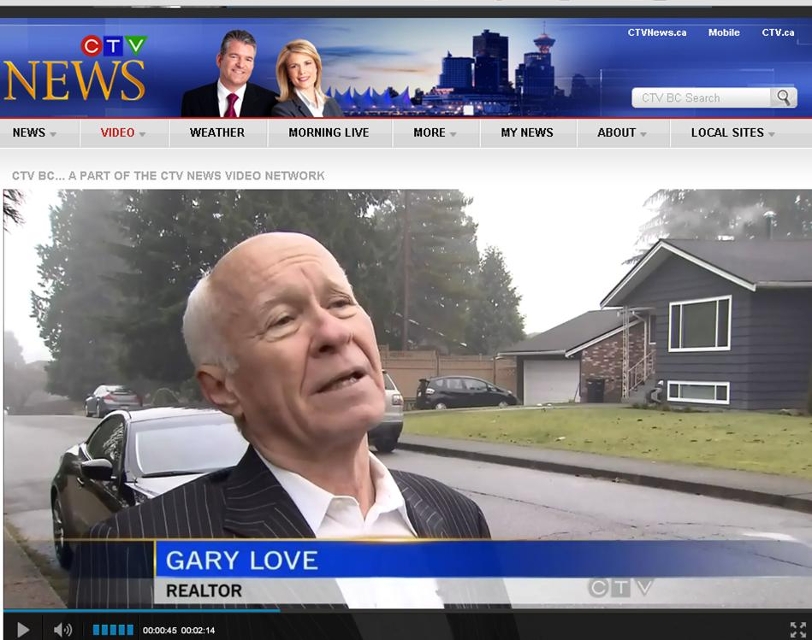 To view the full article online, click on the following link: http://www.burnabynow.com/business/Local+Realtor+sells+same+home+times/7838161/story.html

Derek Love quoted in The Vancouver Sun ad on Market in Suburbs - January 4, 2013. To view the article please click on the following link: http://www.vancouversun.com/business/Metro+Vancouver+suburbs+continue+attract+home+buyers+slow/7773217/story.html
March 8 2011 - New Mortgage Rules. In a week, mortgages will get a little tighter and you'll have to pay them back faster. Global TV interviews Carsten Love

December 2, 2009 - An interview from Global TV with The Love Team member Carsten Love about the current real estate market: