Buyer's Information:
How the Love Team can really help you!
Please view our Home Buyer's Guide to help guide you through and provide you with helpful information when purchasing a home.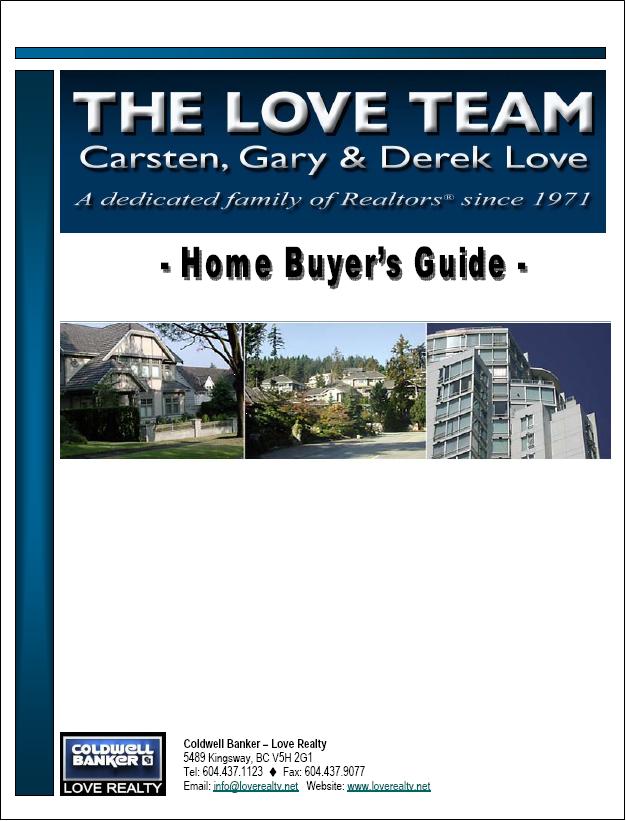 Please view the Condominium Buyer's Guide for more information about buying a condominium.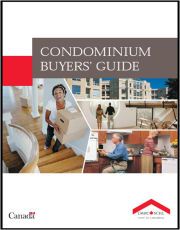 A Guide to Purchasing your First Home
Buyers do not pay a realtor for working with them to purchase a property on the market. Loyalty to work together between a buyer and their agent is important in the relationship.The sellers of the property pay the commission when they list the property for sale. Therefore, it is in a Buyers best interest to choose a Realtor with whom they feel comfortable with, trust and who will work hard for them to select a home, negotiate on their behalf and follow the sale from beginning to end with inspections, lawyers, title searches, etc. protecting the Buyers interests at all times. Gary, Derek and Carsten have the patience, experience, knowledge and listening abilities to make the buying experience a pleasureable one! Our committment is to empower you to make a sound, Real Estate decision based on past sales and our years of experience. We will make the buying experience a pleasureable one!

Process of Purchasing your New Home with a lender
Pre-Approval
(send application to mortgage broker along with income confirmation)

Put an Offer in on Property
(realtor negotiates price and receives accepted offer)

Receipt of Accepted Offer
Realtor sends a copy of contract to mortgage broker
Appraisal report ordered
Realtor organizes property inspection (if applicable)
lender's final approval issued when all necessary subjects (documents) have been submitted

Remove Subjects on Contract
remove subjects such as financing & inspection clause
-- your deal is now firm --
provide realtor (us) with deposit which is put into trust account.

Lawyer's Office
mortgage documents will be sent to your lawyer 1-2 weeks before closing by the lender
mortgage documents are prepared and registered
any outstanding money owed for down payment is paid to lawyer with closing costs
title is transferred to your name
CONGRATULATIONS!!!! YOU NOW OWN YOUR NEW HOME

Government Incentives for Home Buyers

95% Ratio Program
As of May 11, 1998, all buyers now qualify for 95% financing regardless if they are repeat or first time buyers. In the Lower Mainland the maximum puchase price cannot exceed $250,000, and outlying areas, lower ceilings apply. For example Whistler is $250,000, but Squamish and Pemberton are limited to maximum purchase price of $175,000 for buyers with 5-9% down payment. Any higher purchase price in these areas require minimum 10% down. Call your Bank or Mortgage Broker for up to date changes and new policies.

RRSPs

As of February 1992, First Time Home Buyers are permitted to use their RRSPs towards the down payment on their home, bypassing the tax implications of redeeming them. The maximum allowable per person is $20,000. This amount is to be paid back over the next fifteen years in an amount of not less than 1/15 per year. For more details regarding this program, please refer to Revenue Canada's Home Buyers' Plan booklet, available from any Revenue Canada Office. You can find the telephone numbers listed under "Revenue Canada" in the Government of Canada section of your telephone book.

Exemption of Property Transfer Tax (BC Gov't Program)
The BC Gov't in Feb 2007 increased the maximum purchase price from $325k to $375,000 in the budget yesterday for first time home buyers exempt from paying the property transfer tax. Check with lawyer and Bank for exemption.
Retroactive May 1996, in B.C. First Time Home Buyers may save up to $3,500 in property transfer tax exemption. The purchase price must not exceed the following maximums: *down payment cannot exceed 30% of the purchase price. Subject to changes. See your lawyer about new changes and policies regarding this exemption.
*first time home buyers with only 5% down payment are still limited to a maximum purchase price of $250,000 -- $330,000 if located within the Capital Regional District, Greater Vancouver Regional District or Fraser Valley Regional District -- $225,000 if located elsewhere in the province.
*under the P.P.T. rebate program, you may never have owned property anywhere in the world (no exceptions).
*if you pay over $11,000 towards the principle of your mortgage within the first year, you will lose your tax exemption.
*you must be a resident of British Columbia for at least 12 months to qualify for the rebate.

Canada Mortgage & Housing Corporation
(C.M.H.C)

Good Housing is fundamental to the Canadian quality of life. It's essential to our economy, too. The housing industry directly or indirectly employs one in five Canadians. No other single industry in Canada has such a large impact on our economy.

CMHC plays an important role in Canada's housing industry. As a crown corporation and the administrator of the National Housing Act for the federal government, CMHC designs programs to help Canadians in need get adequate housing.

Mortgage Loan Insurance

Under Canadian Law, certain lending institutions cannot provide first mortgage financing in excess of 75% of the purchase price or lending value of a home unless the mortgage is insured.

Lenders feel confident about making loans for 90% (95% for qualified first time buyers) of the value of the property when borrowers buy mortgage loan insurance. An insurer of mortgage loans, such as CMHC, takes the risk of lending money to home buyers.

More than 2.7 million Canadians own homes today because they were able to insure their mortgage loans with CMHC and present themselves to lenders as low-risk investments.

Home Buyers who require mortgage loan insurance obtain it through the lender as part of the process of taking out a mortgage.

What you pay:
There are two costs to buying mortgage loan insurance from CMHC - application fee and the premium. Like all insureance premiums, those for mortgage loan insurance are priced according to risk.

Application Fee:
$75 paid by the home buyer to CMHC through the lender or $235 if a "full service" application is to include the appraisal.

The Premium:
The following outlines the various premiums that are applicable based on the degree of risk involved as determined by the Loan/Value.


C.H.M.C. Premiums
| | |
| --- | --- |
| Loan Size (% of Property Value) | Premium (% of Loan) |
| Up to 65% | 0.50% |
| Up to 75% | 0.75% |
| Up to 80% | 1.25% |
| Up to 85% | 2.00% |
| Up to 90% | 3.75% |
| Up to 95% | 3.75% |

This premium can be paid as a lump sum, or you can add it to your mortgage loan. See your Bank or Mortgage Broker about changes and new policies.

Minimum Down Payment

*5% for purchases up to $250,000 in Vancouver & Whistler and 10% for purchases greater than $250,000.
*5% for purchases up to $175,000 in Squamish & Pemberton and 10 % for purchases greater than $175,000.
Note: At least 10% of the property value must come from the borrowers own resources - either saved down payment or gift from a parent.

Qualifications

*Must be buying or building a home in Canada that will be your principle residence.

List of Items to Supply to your Mortgage Specialist

*Letter from Employer
*T4 Slips
*T1 generals
*Pay Stub
*Confirmation of down payment (3 months bank statements showing the amount saved OR copy of term deposits/GICs OR gift letter OR RRSP statement and/or copy of purchase and sale of existing home with statement)
*Three years financial statements
*Copy of absolute discharge of bankruptcy
*Copy of seperation agreement
*Lawyers name and address
*Branch for servicing


List of Costs you can Expect when Buying your Home
*Legal Fees

$700-$1,000 -- ask for a referral from your realtor!

*Appraisal Fees

$185.00 to $300 if applicable

*Property Purchase Tax

1% of the first $200,000 of the purchase price +2% of the balance

*Home/Condo inspection

approx. $275 - $1000 depending on size of home - ask Realtor.

*Site Survey

Up to $375 but may be obtained from the vendor for free if the vendor has a copy.

*Moving costs

Moving company or truck rental - Yellow pages or Newspaper classifieds.

*Adjustments

Includes pre-paid taxes, heat, electricity, or management fees, property tax holdbacks. Varies for each borrower and should be verified by your lawyer prior to closing.

*Processing Fees

Any processing fees will be discussed and disclosed by your Mortgage Specialist prior to subject removal for finance clauses. In most cases there are no application or processing fees.

*CMHC Application Fees




* home/fire insurance

$75 with separate appraisal or $235 CMHC full service.




$500 to $2000 per year.